Revised by Diana Kraemer, Yoga Instructor certified in Physical Education & Sport Sciences.
Spiritually doesn't always get first dibs on our attention. If we can't see it, we forget it's there. It's like that item you forgot to write down on your grocery list and that you probably forgot to buy. And then you realized it was the reason you went to the store in the first place.
Our spiritual nature tends to be very mellow and quiet when compared with our bodies and minds. We're constantly being reminded that we have a body because we get tired, cold, and sick and crave another piece of molten lava cake. Our minds continuously churn out thoughts and emotions galore, sometimes not switching off at night when we want to sleep.
Yet our spiritual voice tends to be quiet and speaking in soft tones, so it gets easily drowned in the noise of daily life or muffled under your child's outbursts, the news, and the thoughts in your head.
However, our spiritual side can shine through if we allow our inner voice (or wisdom) to get louder, more clear-cut, and firmer. Most of us call it intuition or gut feeling. And the great thing about it is that it's always present within us and is always right.
So how come we don't nurture or learn to listen more to the ONLY voice that actually matters?
Lack of practice for one. We probably weren't brought up tuning in to this inner voice. Probably lack of awareness that it is always there when we need it. And maybe lack of attention as we simply tend to focus on other things. In short, there are many reasons, and we don't need to analyze them.
The great news is that we CAN nurture this voice to speak louder and clearer regardless of where we are in life. Once we're attuned to our inner guide, the answers we seek will come to us from within.
When it comes to our intuition, it's either a very clear yes or a very clear no. There's no in-between. We feel it in our gut so powerfully that even if something appears good on paper, ticking off all the right boxes, we can still get the sense that something is off or not right for us.
Maybe the fact that it sometimes doesn't seem to make any sense throws us off a bit. Trusting this voice and acting accordingly takes courage and faith.
When we develop and make time for our spiritual development, we also strengthen our faith and courage in ourselves and the world around us. We relinquish the driver's seat, so to speak, and allow trust in what is to guide us through.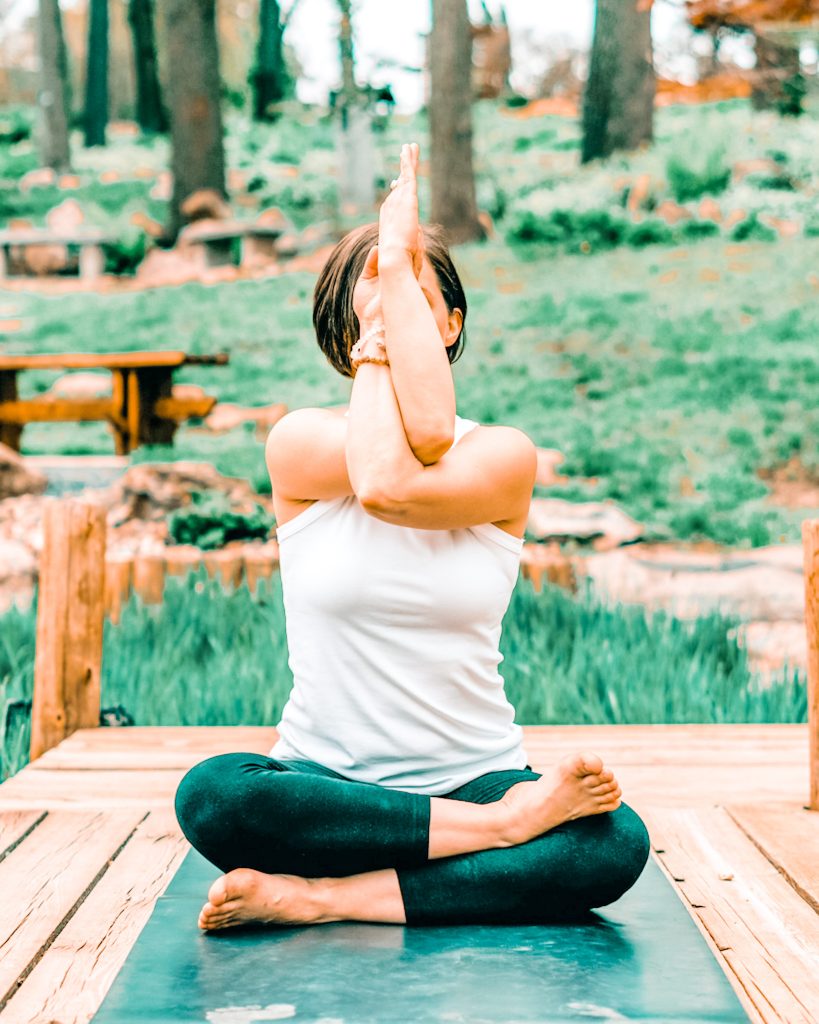 In this sense, yoga is a great practice that allows us to nurture that spiritual connection in our lives. The wealth and breadth of yoga is too vast of a topic to cover here. There are many types, styles, and schools of yoga, which requires a conscious effort to find the technique, class, instructor, and even yoga mat that best fits our own needs at any given time. But once you find the right mix, yoga is a great spiritual practice to help keep you grounded and better tap into your energy and vitality.
In fact, I have found that when it comes to motherhood and life in general, yoga can offer some great insights no matter what type or style you practice.
Here are 7 Yoga Lessons for Daily Life and Motherhood to Help Boost your Inner Game.
Start off with the proper foundation.
Nothing in life can have a long-lasting and positive outcome if it is built on shaky ground. Nature knows this better than anyone. Redwoods that can deftly grow to over 300 feet start by dedicating a long period towards growing and nourishing the roots first.
The same holds true for us mothers. Whether it's our day, our week, or that vital project, we need to start off by being adequately grounded. My beautiful yoga instructor likes to add "grounded and straight."
Before you get started with the parenting or working aspect of your day, making sure to ground yourself first should be your number one priority.
We cannot show up for our kids, spouses, partners, loved ones, friends, or even our jobs if we're not taking care of number one.
It's all about how we self-manage and self-regulate every day. To be productive and take care of every area of our lives, we need the following: recovery time, good sleep habits, nutrient-dense foods, great friendships, and a sense of belonging.
This is how we set the foundation to show up calm, conscious, and resilient. How do you ground yourself? How do you prepare to show up fully in your life and handle all your different roles and responsibilities? The answer to these questions will set the foundation for everything else.
Leave the past behind. Nothing matters but the present.
That's right. We sometimes fall into the trap of starting our day limping with guilt from the day before. Whatever happened, whatever we said, whatever we did or didn't do, it's now in the past. Long, long gone.
Every day is a new beginning, as cliched as it sounds. A unique opportunity to start anew. Fresh. On a blank page.
The truth is, we can't create the present or future we want by examining or contemplating the past. Giving ourselves the grace of a brand new day or a brand new moment is critical.
Even now, if the morning has gone horrible at home, and my kids and I have all gone on a downward spiral of craziness, I know that it can be a new reset when they get up from their naps. I CAN rescue the remainder of the day. We can always start again. And most often than not, pretty crappy mornings have had darn good afternoons when I approach it from that space of knowing that what matters is the present moment.
Your breath is more important than the movement.
When we control our breath, we control the Universe. What happens outside of us is a reflection of what is happening inside. This is hands down the most straightforward and most easily forgotten truths of all.
As mothers, we strive for speed, efficiency, doing, charging ahead, and anything else that makes us feel like we're moving forward. But this busyness can be a trap. We can use the distractions of doing tasks and low impacting activities to avoid looking inside and making the proper adjustments. Or even making some tough decisions and choices.
Going around in circles might feel like progress, but in reality, we're just wasting precious momergy going nowhere. Taking the time to pause and contemplate might seem weird at first if we're used to being constantly on the go. But, in that break, in that non-doing, in that pause, that's where we open up the space for what is needed next.
Case in point: tantrums are huge triggers for all of us! We want to do something immediately. We want to fix them or nip them in the bud (whatever our mood happens to be). And yet, we can achieve so much more by taking some deep breaths in the middle of our children's meltdowns. We can even find the right approach to handle them after taking a couple of deep breaths. And the same goes for almost anything else that is happening at the moment. Pause, breathe, and take stock.
Do whatever feels right for you TODAY.
This used to sound so odd for someone like myself, who has long suffered from type A personality. My old mantra used to be "doing whatever it takes" to get to my end goal (obviously, within a legal and moral compass). But you know what I mean.
Listening to my body was not a priority because things needed to be done, even if they were not to my liking.
There are two aspects to this. First, we can always decide what approach will feel right for us even with the things we MUST do and that are not of our particular liking.
I might not like having to do laundry, for example, even though I know it must be done. So what approach to this inevitable task do I choose? Maybe it feels right for me to tackle it first thing in the morning or while children are napping. No matter the context, there's always an alternative that feels better for us, and honoring that goes hand in hand with giving ourselves some grace.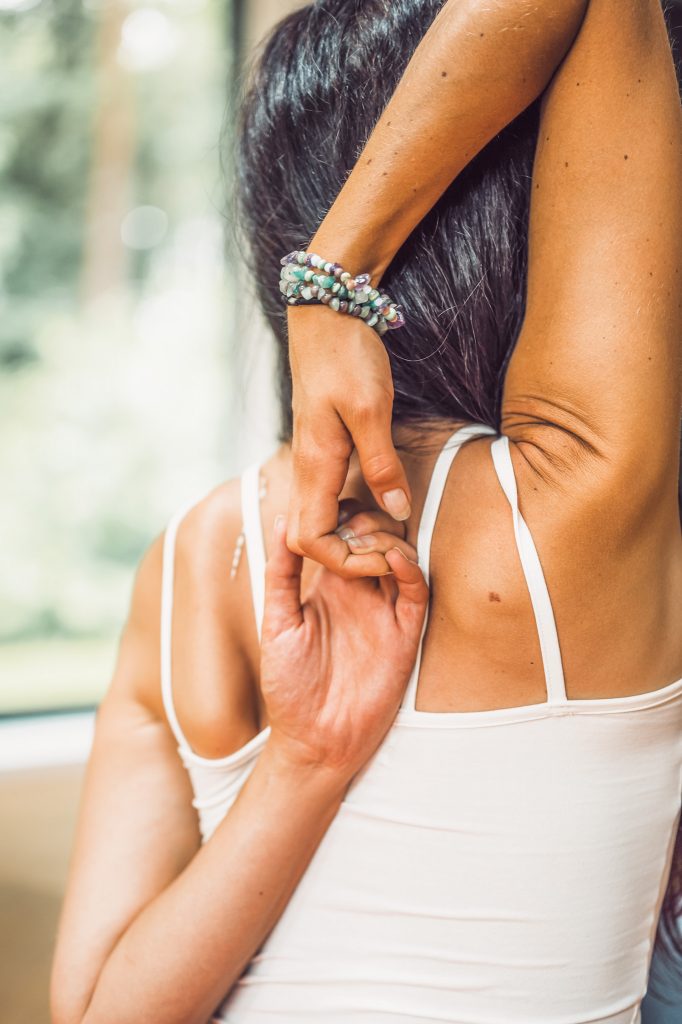 The second part of this is that many things will simply not be challenging or burdensome when we have a clear intention and understanding of why we're doing them.
My eldest loves to smell his newly washed blankets and says, "How nice it smells, mommy!" with evident delight. Suppose I interpret doing the laundry as a way to show my love to him by providing clean and wonderful smelling blankets he can snuggle with at night. In that case, even if I don't like the chore, it will feel right because my intention is that my children feel loved in every possible way.
Keep your Drishti when trying to balance.
The Sanskrit word Drishti is commonly translated as "point of focus." It is a specific point to lock your eyes on while holding a yoga posture.
When we lose focus in a yoga pose, we tend to lose our balance. Hence the importance of maintaining your Drishti.
When we lose focus in our daily life, we get distracted by the unimportant and sabotage our goals and priorities.
We have many objectives and purposes in all of our different roles. Keeping our eyes on the ball, so to speak, keeps us in our truths. If we do this, we can't be easily distracted or confused. But if we start to look around, we get derailed. Maybe we begin to compare ourselves to others or what they're doing, or we might start second-guessing our choices and decisions. In other words, we start diluting ourselves, and our energy gets depleted.
In my last post, I spoke about how our children can test our limits and boundaries (because that's what they're supposed to do). By keeping our priorities straight and knowing what the end result is supposed to look like, we won't be easily thrown into confusion.
Being upside-down helps to balance the chi in your body.
Not every day or moment in our lives will pan out the way we want it to. Put simply, we don't like being "down" or feeling like we're upside down. The caveat is that life itself is so dynamic that it comes with its ups and downs as part of the whole package.
But those "downward" moments are the ones that can gift us with a better perspective and awareness of ourselves. Being comfortable with being uncomfortable is a great life skill to acquire.
From breaking out of our comfort zone to allowing ourselves to feel out of shape or bent, there's always something new we're discovering about the experience. And it is a great mindfulness technique to not be judgemental about it. 
It's not so much that we're upside down; it's what we tell ourselves about being upside down that makes all the difference.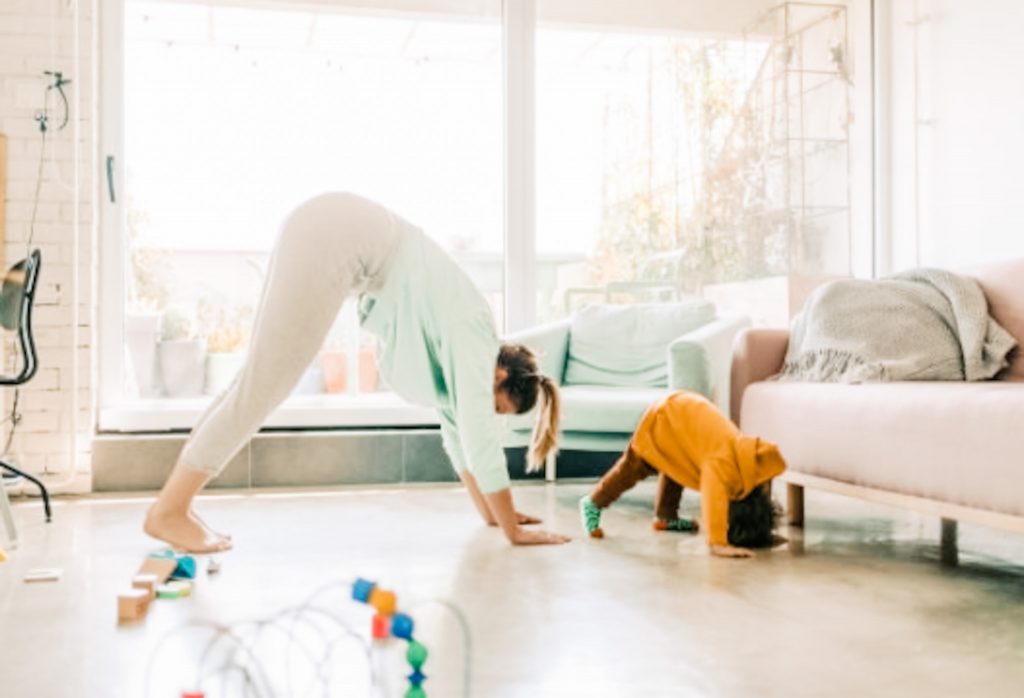 Embracing the chaos, the unknown, the challenges, and the discomfort is a great place to be because we learn a great deal about ourselves in these situations. We learn to know what we're truly capable of.
We can't appreciate a sunny day if we haven't lived through some rainy ones. It's the yin and yang aspect of life that allows us to embrace whatever shows up, knowing that, this too, shall pass.
Take a moment to thank yourself for the space provided.
Gratitude is such a powerful force! And we mostly tend to forget to thank ourselves too. It's an odd habit but one that my yoga instructor emphasizes at the end of each yoga class. Taking a moment to appreciate even the most minor details helps our brains be on the lookout for more of the positive. It sends a powerful message to the world that we are choosing to focus on the positive. Finding the silver lining is a great way to strengthen our spiritual wellness because we exercise our trust, faith, and courage. Plus, gratitude is a great way to neutralize any negative emotions that might come up. When feeling low (or down), gratitude counteracts this low frequency.
So there you have it: 7 Yoga Lessons for Daily Life and Motherhood to Help you show up better in all that you do beyond the yoga mat. Happy Spiritual Wellness Month!
Namaste.